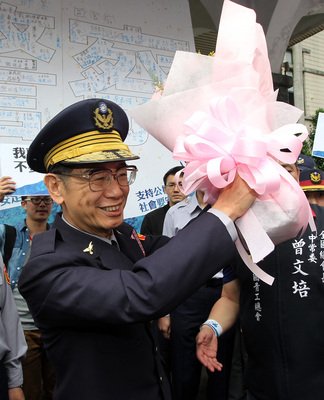 A number of political and civic groups took to the streets of Taipei in a march on Sunday to show their support for the nation's police.
The march was led by the youth division of the ruling party – the Kuomintang (KMT) – and other youth and civic organizations. The peaceful demonstration began at the Taipei train station at 8:30am on Sunday, and concluded at about 10:30am at the National Police Agency.
The demonstrators chanted slogans in support of the police, and in opposition to violence. The march follows on the heels of months of protests against two major issues that the ruling party has tried to push forward: a trade pact with China and a nuclear power plant in New Taipei City.
The protests have included the occupation of the nation's legislature, and have at times turned violent, with the police sending in forces to remove the protesters from certain areas.
The KMT's candidate for Taipei mayor, Sean Lien, showed up in support of Sunday's March. The demonstration concluded with the presentation of flowers to the National Police Agency Deputy Director-General He Hai-min.