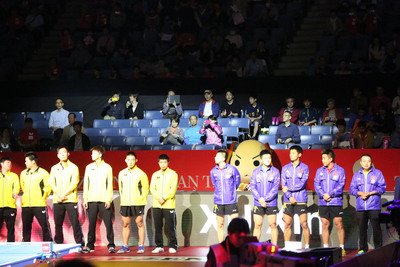 It was a historic moment for Taiwanese table tennis players at the World Team Table Tennis Championships in Tokyo on Sunday. The men's team from Taiwan, playing under the name Chinese Taipei, won bronze. That was the first time the team has medaled in the tournament since it began participating in 1985.
The bronze medal came after the team lost three games in a row to their Chinese rivals in the semi-finals. Taiwanese player Chen Chien-an was the first to be routed. He lost to China's Xu Xin 3-0 in the Men's Championship Division final.
Taiwan's top-ranked table tennis player Chuang Chih-yuan was then defeated by Ma Long from China 3-0. Then Huang Sheng-sheng, the third play from Taiwan, lost to China's Zhang Jike 3-1.
Taiwan made it to the semifinals after beating South Korea 3-2 on Saturday in a shootout that lasted more than three hours.