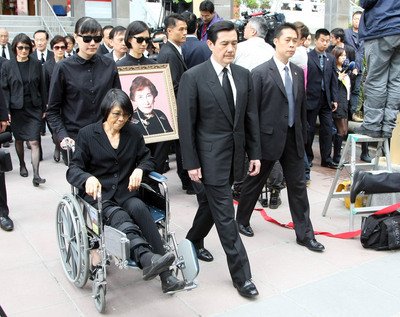 A funeral service was held on Monday morning for Chin Hou-hsiu, the mother of President Ma Ying-jeou. Chin passed away on Friday at the age of 91, due to complications from a lung tumor.
The president and close family members gathered for a ceremony at a Taipei City funeral parlor at 7am on Monday morning. Several top government officials, including the vice president, premier and Taipei mayor were all present to pay their last respects.
Family members placed carnations inside the casket before the cremation. President Ma accompanied the coffin, holding a picture of his mother, as is customary in Chinese culture. Several family members read passages and gave eulogies, and then a small ceremony was held with more than a dozen members of the family, including the president and First Lady Chow Mei-ching. Chin's ashes were then placed alongside those of her husband.