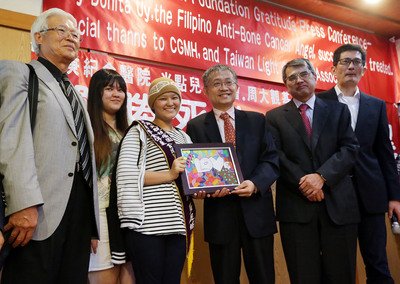 A teenager from the Philippines thanks Taiwan for treating her rare bone cancer.
Mary Donita Uy, who is turning 19 and is from a poor family, was diagnosed with cancer in her right arm in 2012. The doctors in the Philippines told her that her arm would have to be amputated when she was diagnosed. Taiwan's Chou Ta-kuan foundation heard of her case and arranged for her to be treated in Taiwan without amputating her arm.
After receiving medical treatment from a program initiated by the foundation, she is heading back to the Philippines on Wednesday. The foundation is a charitable organization established in 1997 to commemorate its namesake, a boy who died from cancer at the age of 9.
Uy lost her father to cancer six years ago.
During chemotherapy, Uy painted to help her through the ordeal. She has planned to donate her 15 paintings to encourage other cancer patients in Taiwan.