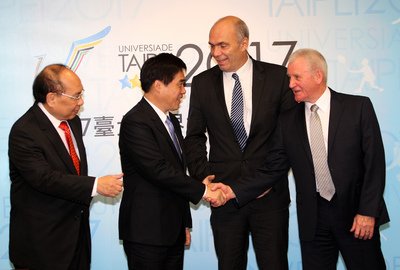 Taipei will host the 2017 Summer Universiade.
Taipei Mayor Hau Lung-bin said on Tuesday that the city government will do its best to host the event organized by the International University Sports Federation (FISU).
A FISU delegation is visiting Taiwan to inspect the venues, facilities, security, and organization. The chair of FISU's International Technical Committees (CTI) William John Warnock and Summer Universiade director Marc Vandenplas gave Taipei's organizing committee much praise for its preparation for the event.
Taipei Mayor Hau Lung-bin said the city government will review the items listed on an upcoming formal FISU inspection report. FISU will make its second inspection visit in 2016 and the city government will make changes in line with its standards. Under FISU rules, inspection tours to Taiwan will be arranged a year and three years before the event.