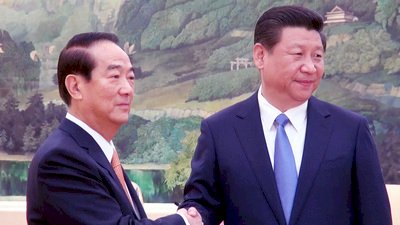 Veteran Taiwanese politician James Soong has met with Chinese President Xi Jinping in Beijing.
Soong is also chairman of Taiwan's opposition People First Party. He met Xi Wednesday at the Great Hall of the People in the heart of Beijing.
During the meeting, Xi said China will never waver in its determination to prevent Taiwan's independence. In response, Soong told the Chinese leader that Taiwan has recently undergone changes that Beijing must understand. He said this includes the rise of a more autonomous civic awareness. Soong also said although his party supports the peaceful development of cross-strait ties, China should pay more attention to the voices of ordinary Taiwanese people.
China sees Taiwan as part of its territory, even though the two sides have been ruled separately for more than 60 years. Beijing has more than 1,000 missiles targeting Taiwan, and has vowed to take Taiwan by force if necessary.