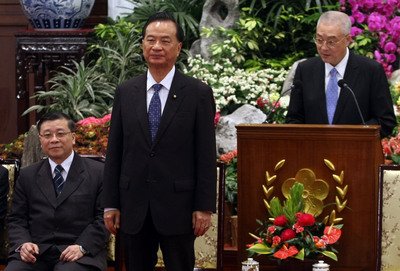 President Ma Ying-jeou nominated candidates for a new president and vice president of the Examination Yuan on Wednesday. At the same time, he also nominated 19 candidates for positions as counselors in the Examination Yuan. The Examination Yuan is the government branch in charge of the employment and management of all civil service personnel.
Vice President Wu Den-yih said that the candidates have all been carefully vetted to ensure their appointments will improve the organization's efficiency and governance.
Wu also said these qualified nominees not only have leadership and professional skills, but also come from different fields of expertise. They were also selected from various age, ethnic, and gender groups.
"There are 19 nominated counselors in total. 8 of them are women," said Wu. "That's 3 more than the last group of counselors. The percentage of women increased from 25% to 50%. 19 of the nominees are incumbent counselors, and the other 10 outstanding candidates are new to the job."
According to the constitution, the candidates nominated by the president will have to be approved by the legislature before assuming their appointments.