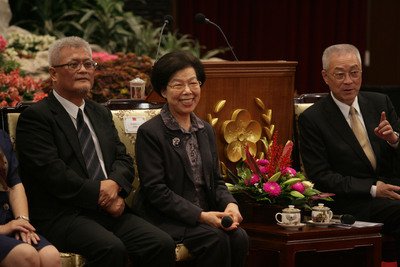 The Presidential Office announced the nominations for a new president, vice president and committee members of the Control Yuan on Thursday.
Vice President Wu Den-yih said President Ma Ying-jeou selected the candidates for their leadership and professional skills. Wu said the president nominated a total of 12 women, the highest number in history.

"There are 12 women and 17 men nominated as members for the 5th session of the Control Yuan. Women make up 41% of the total number of nominations. It's the highest in percentage in the history of the Control Yuan," said Wu.
Wu said the 29 nominees were selected from various fields, including internal affairs, law, transportation, finance, education, social welfare and health.
The current head of the Central Election Commission, Chang Po-ya has been nominated as president of Control Yuan, while the former head of the Council for Indigenous Peoples, Sun Ta-chuan is candidate for the position of vice president.
The Control, Legislative, Executive, Judicial and Examination Yuans make up the basic structure of Taiwan's five-branch government with the head of state as its chief executive.