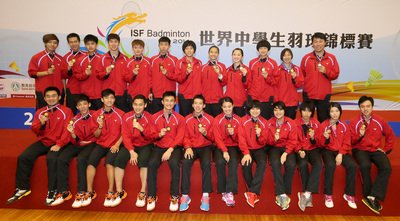 Taiwanese competitors picked up a record four gold medals at the International School Sport Federation ISF 2014 World Student Badminton Championships.
The games, which have been under way at the Taipei Gymnasium since May 7, concluded on Sunday.
Taiwanese athletes, playing under the team name "Chinese Taipei", faced off against Chinese competitors in both the men's and women's finals. Meanwhile, in the team competitions, the men's and women's teams from Taiwan faced off against the teams from France and China.
This was the best result for Taiwan's team since it began competing in the event. The only other team to pick up four golds at the tournament, was China, back in 2006.