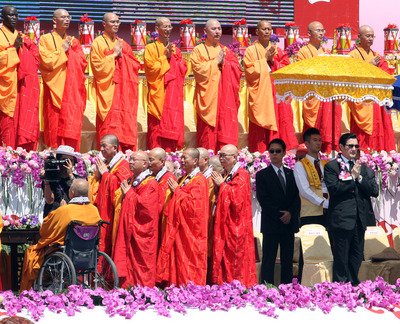 A Buddhist Mother's Day ceremony took place on Sunday in front of the Presidential Office Building. President Ma Ying-jeou participated in the event, making his first public appearance since attending his own mother's funeral this past Monday.
In a speech at the ceremony, the president said that he had attended the Buddhist Mother's Day ceremony for the past four years. But, he said, this year was different because it was his first time marking the day without his mother in more than 64 years.
Thousands of Buddhist faithful showed up for Sunday's ceremony, which also marked the birthday of Buddha. Also in attendance were the foreign minister, the mayor of New Taipei, and Buddhist Master Hsing Yun, who is the founder of the Fo Guang Shan order, which organized the event.
Sunday's ceremony included songs, prayers, and a ceremony in which a statue of Buddha was bathed. The participants also honored a number of model mothers who were +on hand for the event.