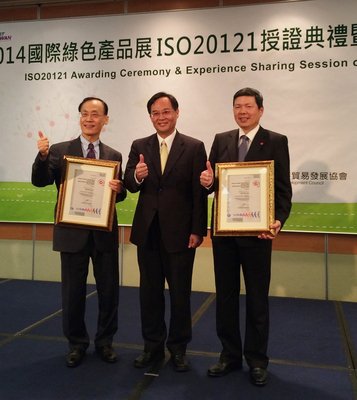 Taiwan's Eco-Products International Fair 2014 has become the first exhibition in Asia to obtain ISO 20121 Sustainable Events Management System certification. That's the word from the economics ministry on Tuesday.
To be certified, the vendors in the fair have to use green materials at the exhibit, and visitors have to comply with green measures. Walter Yeh, the deputy secretary-general of the Taiwan External Trade Development Council (TAITRA), explains:


"Visitors to the fair have to bring their own water bottle," said Yeh. "We inform them of this before they come. We also encourage visitors to take public transportation to get to the exhibition venue. The restaurants in the fair also have to use local ingredients."
The economics ministry said this certification is a testament to Taiwan's long-term commitment to environmental protection and sustainable event planning. The ministry hopes that future exhibitions held in Taiwan can follow this example.