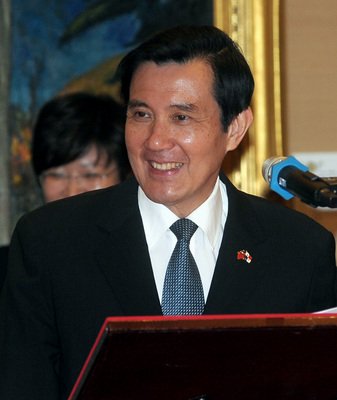 President Ma Ying-jeou says the United States has played a supportive role in Taiwan's progress in international relations. Ma was speaking on Tuesday while receiving a delegation from the US think tank, The Heritage Foundation.
Ma said his priority after taking office was to resume trust between high level officials in Taiwan and the US. The de facto US embassy in Taiwan recently said that non-official ties between the two countries have never been better.
Ma said the US has played a key role in Taiwan's international relations:


"We have gradually built up a sustainable and prosperous framework," said Ma. "We hope that under such a framework, we will be able to have more cross-strait exchanges and continue to maintain a peaceful and prosperous future. The development of these efforts whether across the Taiwan Strait or in the international arena has a lot to do with support coming from the US."
The president said the 2014 Index of Economic Freedom ranks Taiwan 17th out of 185 countries. That's a three notch jump from the previous year. Among 41 Asian countries, Taiwan ranks fifth, exceeding Japan and South Korea.

President Ma also reiterated Taiwan's intention to join regional trade pacts like the Trans-Pacific Partnership (TPP) and the Regional Comprehensive Economic Partnership (RCEP).