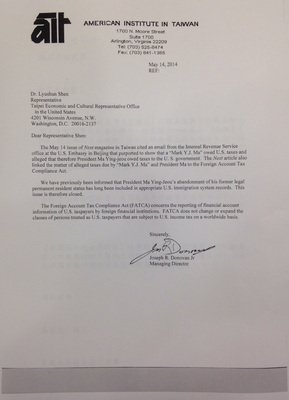 The Presidential Office produced a letter Thursday that disproves allegations that President Ma Ying-jeou still holds permanent residency in the United States.
The letter was signed by American Institute in Taiwan (AIT) Managing Director Joseph Donovan. The AIT is the de facto US embassy in Taiwan. The letter was addressed to Taiwan's representative to the United States Shen Lyushun. Shen had written to AIT seeking comment on a report by Taipei-based Next magazine that alleged Ma still holds a green card.
But the AIT letter confirmed that Ma no longer holds a green card. It said that "we have previously been informed that President Ma Ying-jeou's abandonment of his former legal permanent resident status has long been included in appropriate U.S. immigration system records. This issue is therefore closed."
After producing the letter, the Presidential Office urged opposition leaders to apologize to the president for the false allegation.