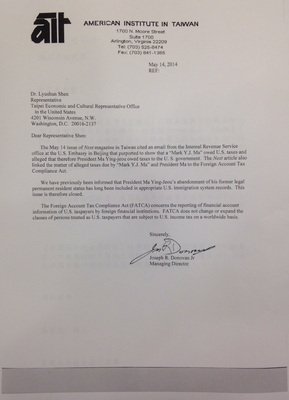 The US government says that President Ma Ying-jeou lost his US permanent residency status years ago. A US State Department official confirmed that Ma is not a US permanent resident on Thursday. The official's statement comes amidst allegations that Ma holds a green card.
The issue came out after Taipei-based Next Magazine reported that Ma will have to pay US taxes once the Foreign Account Tax Compliance Act (FATCA) goes into effect in July. The magazine said this is due to the green card Ma received when studying and working in the US in the 1970s and early 1980s.
The American Institute in Taiwan's Washington headquarters sent a letter to Taipei's representative in the US, Shen Lyu-shun, on Wednesday about the matter. The letter confirmed that President Ma abandoned his permanent residence status and that the matter is closed.