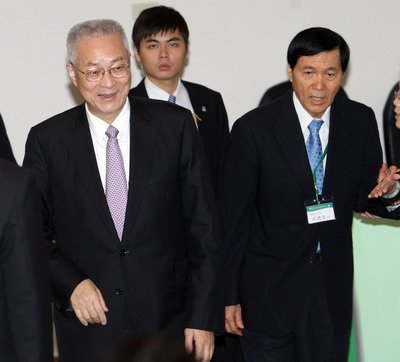 Vice President Wu Den-yih says Taiwan's priority is to adjust its industrial structures. Wu was speaking on Tuesday at a forum on the Asian economic outlook.
Asia's importance is seen in the number of free trade agreements signed in the Asian countries in the last two years. But Wu said Taiwan is faced with the challenge of regional economic integration, especially as it tries to join free trade pacts like the Trans-Pacific Partnership and Regional Comprehensive Economic Partnership.
Wu spoke on Taiwan's challenges. "On the one hand we need to adjust our industrial structures. We need to lower orders from abroad and overseas OEMs," said Wu. "We need to think clearly what effect they would have on our economy. The government's most important task is to adjust the structures of our primary industries so they can have the capacity for new research and innovation, enforce local production, create new job opportunities, and deal with unreasonable labor incomes."
Vice President Wu said that over 60% of Taiwan's export items compete with Korea.
Taiwan's textile and machine tool exports will soon be replaced by Korea due to a free trade agreement (FTA) between the US and Korea. Wu also said Taiwan will no longer benefit from the Economic Cooperation Framework Agreement (ECFA) signed with China once an FTA between China, Japan and Korea takes effect in 2015.