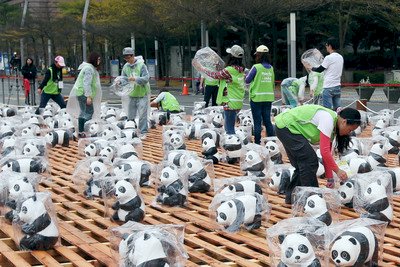 A light rain was not enough to keep 1,600 paper pandas from making an appearance in Taipei on Sunday. Organizers outfitted each of the paper pandas with transparent raincoats to protect them from the elements.
The pandas are part of a massive art display by French artist Paulo Grangeon. The significance of the number 1,600 is that's the estimated number of pandas left in the world. The exhibit also includes a smaller number of Formosan Black Bears, a species indigenous to Taiwan.
The exhibit is currently under way in the square in front of Taipei City Hall, and is set to last through March 9.