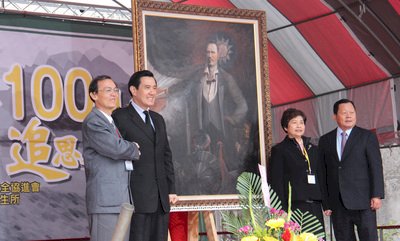 President Ma Ying-jeou honored a late anti-Japan martyr on Sunday in Miaoli County, northern Taiwan.
The martyr is Luo Fu-hsing, who was executed by Japanese authorities in Taiwan a hundred years ago on March 3, 1914.
President Ma was accompanied by Luo's grandson and granddaughter, as well as the head of Miaoli County and several other officials.
"The Republic of China would not have become what it is today without the revolutionaries and martyrs who strove to save the country," said Ma. The Republic of China is the official name of Taiwan's government.
Luo was born in 1886 in what is now known as Indonesia. He was raised in Guangdong Province, China, and later came to live in Taiwan at the age of 18. President Ma credited Luo as being instrumental to the founding of the ROC, due to his involvement in the movement to topple the Qing Dynasty in the early 1900s.
He later returned to Miaoli County in Taiwan and organized an uprising against the Japanese, who had colonized Taiwan. The uprising failed, and Luo was executed in 1914 at the age of 28.
At Sunday's memorial, President Ma helped unveil a portrait of Luo piercing a Japanese flag.