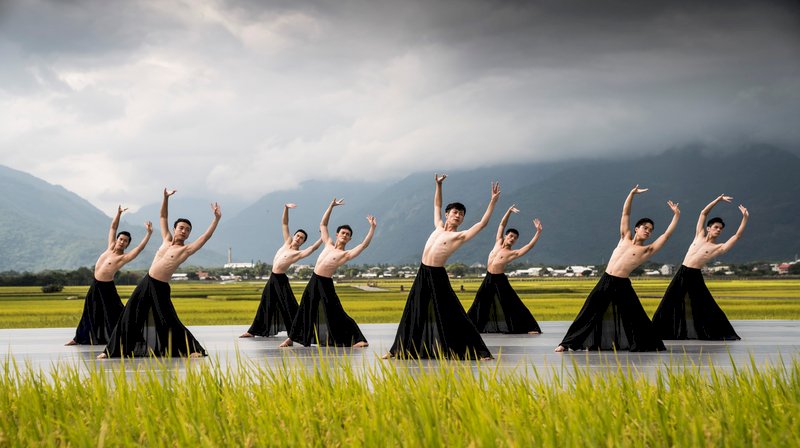 Taiwan's most famous dance troupe graced an autumn festival on the eastern coast Sunday, performing one of their works from the Cursive trilogy.
Taiwan's world renown Cloud Gate Dance Theater performs their classic work Pine Smoke at the 10th anniversary of the Chihshang Autumn Harvest Art Festival in Taitung.
Men clad in billowy black float like splashes of ink. Calligraphy ink was traditionally made from the smoke soot of burning pine logs. Now, dancers become the calligraphy written with pine smoke. Their fluid bodies display the elegance of Chinese calligraphy and the power of emptiness.
Women dressed in nude tops and white flowing pants twist and curve their bodies with strength and dignity as they perform Pine Smoke, the second work in their highly acclaimed Cursive trilogy.
The dance troupe displays an oneness with nature as they move gracefully among the nearly 200 hectares of yellow rice fields. The fields are home to Taitung's famous Chihshang rice.
Legendary choregrapher and founder of Cloud Gate, Lin Hwai min says he hopes they can dance in the wind, and even among the clouds. They want to present a work that expresses the human body - together with nature.
Cloud Gate also performed Pine Smoke five years ago at this autumn art festival in eastern Taiwan. Over 2000 came to watch them perform. Lin founded Cloud Gate in 1973 as Taiwan's first professional dance troupe. They have performed at the world's most prestigious venues and are highly acclaimed throughout the globe. Lin retires next year.
Lin also led the audience in a moment of mourning. He said he hopes the deceased can rest in peace, and the hurt can soon recover. Taiwan just saw a tragic train accident, affecting many residents on the east coast.