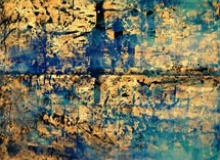 Makoto Fujimura says we need to reconnect with beauty.
Tune into Taiwan Today as Natalie Tso interviews prominent Japanese American artist Makoto Fujimura about the concept of culture care. He also shares about his commencement address entitled Aroma of the New, which was named one of the best 100 commencement addresses of all time by NPR.
Fujimura is the founder of the International Arts Movement and was a presidential appointee to the US National Council for the Arts. He recently exhibited at the Taipei 101.