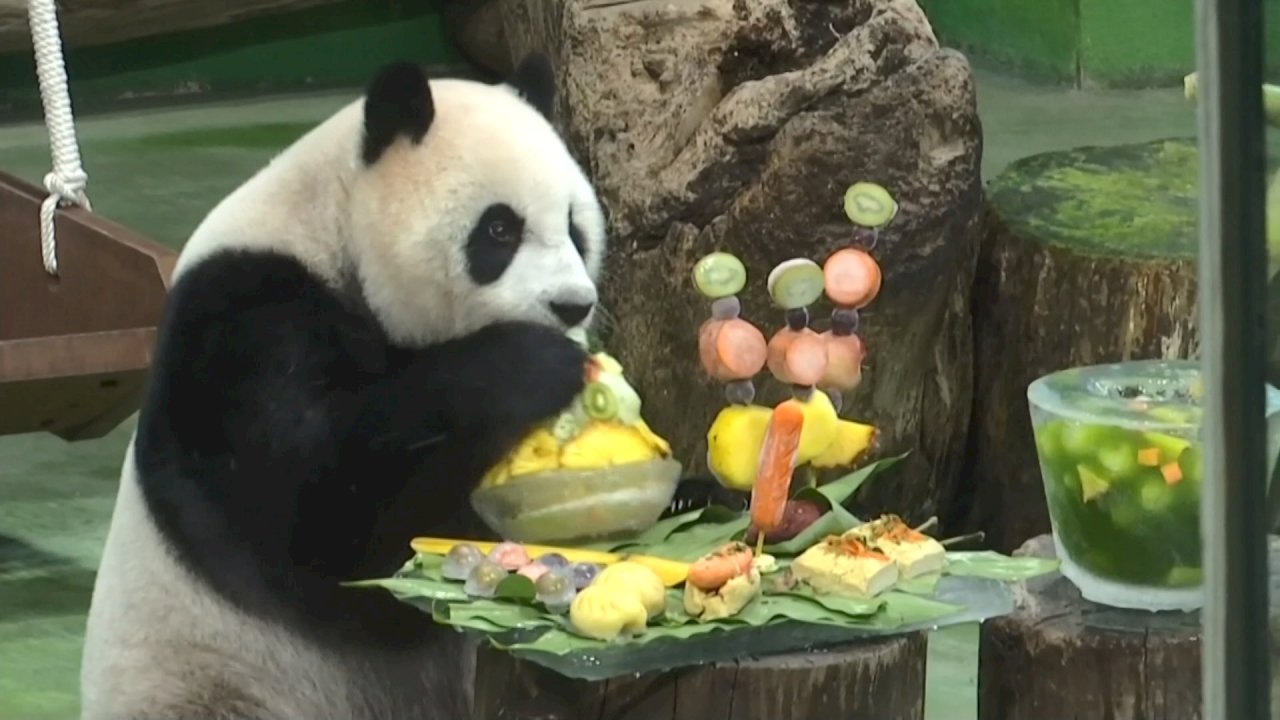 Taipei Zoo's giant panda Yuanzai
Yuanzai, the beloved giant panda born at Taipei zoo, has turned seven this year.
To celebrate her seventh birthday, the zoo threw a birthday party for her on July 6. They prepared a feast for Yuanzai, featuring her favorite fruits and vegetables shaped to look like Taiwanese delicacies. There was "stinky tofu"," bubble tea", and "Taiwanese sausage". 100 loyal fans joined her at the zoo for the event, while more fans celebrated online by watching a webcast of the party. One die-hard fan even swapped shifts with his colleagues just to attend the party in person, bringing a big homemade birthday card for her.
Yuanzai doesn't just see crowds going crazy over her when it's her birthday. She's been a sensation from the start. When she made her first public appearance at just six months old, more than ten thousand people waited in line just to catch a glimpse of her. Over the years, fans have been chronicling Yuanzai's every move and sharing new video footage featuring her tree-climbing skills, acrobatic talent, and other antics on social media. Thanks to these fans, we can see how Yuanzai has grown from a little pink cub weighing 183 grams to a 110 kilogram lady today. From the videos, we can also see that her playful nature hasn't changed. For example, she still likes to run away from the enclosure where her fans can see her to another room, all so that zookeepers have to come sweet-talk her into going back out in front of her adoring public again.
Why can't people get enough of Yuanzai? One reason is her personality. She won the title of "best panda personality" at the Giant Panda Zoo Award in 2013 and 2014, beating panda competitors from around the world two years in a row. Also, according to her keeper, Yuanzai is a people's panda who loves to be around the zoo staff. She often approaches the keepers for a hug.
Under the good care of her keepers, Yuanzai has grown into a healthy, mature panda. The Taipei Zoo now plans to help Yuanzai find a breeding partner. According to zoo's spokesperson Eric Tsao, panda experts will hold a meeting in November to discuss a plan that would let Yuanzai pick her own mate from potential matches in China. However, as it is difficult to arrange for Yuanzai to travel, the most feasible alternative would be to artificially inseminate her in Taiwan.
While Yuanzai's mating plan still has a long way to go, the panda family at the Taipei Zoo has recently got a new member. She is Yuanzai's little sister, born a few days before Yuanzai's birthday this year. This is perhaps the most special birthday gift that Yuanzai has ever received, and the birth is a remarkable achievement for the zoo, as well. The Taipei Zoo has tried breeding pandas every year during the short mating window of Yuanzai's parents, Tuan Tuan and Yuan Yuan, as well as artificial insemination. They have failed six times. Now, on their seventh attempt this year, the zoo finally has welcomed a newborn cub.
The cub has been given the nickname Rou Rou, which sounds like "gentle" or "chubby" in Mandarin, depending on the tone used to pronounce the characters. This also implies the differences in personality between the sisters — while Rou Rou is gentle and quiet, Yuanzai is a rough-and-tumble panda that has been vocal since she was small. The zoo will hold a naming contest to collect input from the fans and decide on Rou Rou's official name.
Yuanzai's parents, Tuan Tuan and Yuan Yuan, have been living in Taiwan since December 2008; they were gifts from China given as a gesture of goodwill.
The panda family of four are given the utmost care by zookeepers. According to Tsao, the family currently has four keepers taking care of it. The keepers have to closely monitor the pandas for changes in appetite and changes in the amount of feces they discharge every day. This is in order to provide optimal care for them. In addition, they have to design new toys and settings for the pandas, allowing them to stretch their minds and bodies from time to time. For example, they will hang the pandas' favorite food up high to make the pandas exercise a little bit before they eat. This is known as behavioral enrichment, and it is vital to keeping pandas in captivity healthy.
Today, there are only about 2,000 pandas around the world. While keepers across the globe devote tremendous efforts and abundant resources to taking care of pandas, they are also trying to deliver an important message. That is, we need to take action to protect the planet's endangered animals. It's not without reason that the panda has been chosen as the global ambassador for wildlife conservation: conservationists hope that the fluffy cuties' star power will help raise global awareness about the issue.