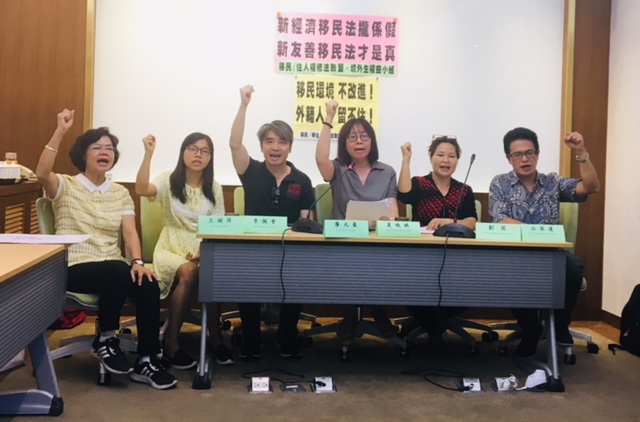 Calling out a slogan
In today's Ear to the Ground, Andrew Ryan heads to Taiwan's legislature to learn about how the Alliance of Human Rights Legislation for Immigrants and Migrants (AHRLIM) is fighting to make life easier for new residents in Taiwan.
Listen Now: Click on the headphone icon (↑) above to listen to the latest episode. To learn more about the program and listen to additional episodes, click on "Ear to the Ground" at the top of the page.
Full Transcript
Recently, a small group gathered in Taiwan's legislature, pushing for the rights of foreign residents. Naturally, as a foreign resident, I was curious. I'm Andrew Ryan and in today's Ear to the Ground, we head to Taiwan's legislature to hear the sounds of protest.
(intro music)
(Taiwanese woman: "Come, come, come")
A woman is calling out to foreigners, inviting them to come to Taiwan to live and work.
(Foreigner Responds)
A young guy answers the call – he's come to study and work in Taiwan.
(Taiwanese woman welcomes him)
She welcomes him to the country, saying that there's a new law that's being set up that will make it easier for people who love Taiwan to stay and settle here. But then he meets someone…
(He speaks with second Taiwanese woman)
He meets a young Taiwanese woman… and soon they fall in love and he asks her to marry him. But there's a problem.
(First Taiwanese woman protests)
Remember that woman that wanted him to come to Taiwan? She rushes over and puts two balls and a chain around his neck. I was hoping you'd love Taiwan, she says, not fall in love!
("I was hoping you'd love Taiwan, not fall in love with a Taiwanese")
And you can hear all the camera clicks. This is the money shot. The group is hoping that this is the photo will make it into the news.
The timing may seem a little unusual, because the Cabinet recently proposed a draft bill that they say would make living in Taiwan a more attractive option for foreigners. But the group that's assembled here in the legislature says that the versions they've seen don't go far enough to bolster the rights of new residents – especially those who end up getting married to Taiwanese partners. If you are from one of 21 target countries, you have to return to your country of origin and face interviews before you can come back and establish residency as a married person.
It's also particularly difficult for new immigrants who get divorced but still want to remain in Taiwan. They must prove they have custody over children, that they're supporting a minor, or that they were the victim of domestic violence.
NCCU Law Professor Liao Yuan-hao questions why foreign residents would want to apply for permanent residency.
(Liao)
Foreign residents do not want to apply for permanent residency, because he says, the laws are sort of like an empty box.
Aside from allowing you to stay in the country without having to leave periodically, he says there's a high threshold to apply for permanent residency. If you're Southeast Asian, it's not going to prevent you from getting stopped by the police and asked for your papers because they think you are a runaway migrant worker.
Will it give you a higher salary? Not necessarily. What about a pension? No. And as for those who get residency via marriage, there are even more hurdles.
(Hsia)
A professor at the Graduate Institute for Social Transformation Studies at Shih-Hsin University, Hsia Hsiao-chuan, says the goal is to make Taiwan a more suitable place for all sorts of people. And if you really want to attract foreign residents to live in Taiwan, you have to eliminate the discriminatory policies.
(music)
They wrap up their press conference with something that we see at a lot of protests in Taiwan, and really at protests anywhere in the world: the shouting of slogans.
(Slogans)
We must improve the rights of immigrants… if we want to retain foreign talent.
With an Ear to the Ground, I'm Andrew Ryan.