A newspaper front page reporting about U.S. House of Representatives Speaker Nancy Pelosi is pictured in Taipei, Taiwan, August 2, 2022. (REUTERS/Ann Wang/TPG IMAGES)
Fucha (real name Li Yanhe), editor-in-chief of Gusa Press in Taiwan, was arrested when he returned to Shanghai in March this year. It was only in late April that his detention was made public, and China's Taiwan Affairs Office confirmed that he was being accused of "engaging in activities endangering national security." Fucha, who has also worked as a host at Radio Taiwan International, has been living in Taiwan since 2009 after marrying a Taiwanese national, but had to return to China to renounce his nationality in order to obtain Taiwan citizenship. It is generally believed that he was arrested because Gusa Press has published a series of books, which, while considered quite normal in Taiwan, are viewed as politically sensitive by Chinese authorities.
Taiwan is a democratic country with a free press and freedom of speech. Nevertheless, in order to do business in China, Taiwan's publishing industry has engaged in self-censorship. Eslite Bookstore, for example, has removed from the shelves of its Hong Kong stores many books prohibited in China. Similarly, in order to be able to broadcast Chinese dramas, many TV stations in Taiwan rarely report news about Falun Gong, Xinjiang or Tibet. This presents China with opportunities to influence Taiwan's media, public opinion, and even its democratic system.
Following Xi Jinping's rise to power, China's suppression of free speech extended to Hong Kong which was supposed to be constitutionally separated under the One Country, Two Systems format. Meanwhile, from the 1990s onwards, Taiwan has marched forwards to democracy, freedom of the press, and freedom of speech. In the Freedom in the World 2023 report by the US-based nonproft Freedom House, Taiwan continues to be defined as a free country. Furthermore, out of a total of 210 countries and regions, it tied for 17th place with Iceland, Estonia, Chile and Germany, and was ranked second in Asia, behind only Japan. Similarly, in the 2023 Press Freedom Index issued by Reporters Without Borders on World Press Freedom Day, May 3, Taiwan ranked first in Asia and 35th out of all 180 countries, representing a rise of three places from last year, and the highest ranking it has received since 2008.
Even before the handover of Hong Kong in 1997, China had adopted a carrot-and-stick strategy of either economic suppression or favors to attack so-called enemies in Hong Kong's media and win over those it viewed as potential friends, thus affecting its United Front Strategy – a means intended to achieve unification through hard and soft approaches - and control of Hong Kong's media. China began using a similar strategy against Taiwan's media from the mid-to-late 2000s: announcing in August 2004 the core of its United Front strategy against Taiwan's media would be one of "Entering the Island [i.e. Taiwan], Entering the Household, and Entering the Mind." Unfortunately, Taiwan's freedom of the press and speech, and its open free-market economy have unintentionally provided China with opportunities to corrode Taiwan's democracy in the guise of press freedom and augmented by economic pressures.
Staff light their phone flashlights and wave to supporters at the headquarters of the Apple Daily newspaper, and its publisher Next Digital, after the announcement it will print its last edition, in Hong Kong, China June 23, 2021. Picture taken June 23, 2021. (REUTERS/Lam Yik/TPG IMAGES)
China used economic means to acquire ownership of Taiwan's media companies, that is, it attempted to obtain the right for pro-Beijing businesspeople to operate Taiwan media outlets, and thus control reporting and limit criticism of the PRC. China also put pressure on Taiwanese media operators who planned to or already had invested in China to self-censor their news reports and commentary. Through embedding paid content, China has influenced some Taiwanese media to effectively become propaganda agents for the PRC. Most importantly, the close economic ties between the two sides of the Taiwan Strait are conducive to China's United Front against Taiwan's media since, for these media operators, economic profitability is a paramount concern, while press freedom and political self-determination have never been key considerations.
The shift of political warfare to social media
From the mid-2010s onwards, social media emerged as a major source of news and information. China's United Front Strategy has advanced with the times and now uses social media to carry out cognitive warfare, with disinformation starting to flood social media. In Mental Dominance: The Laws of War in the Global Media Age and National Security Strategy published by the People's Liberation Army Press in 2014, it was emphasized the use of psychological cognitive warfare relying solely only on covert influence and penetration of cognitive space, without physical force, would be enough to subvert other nations' political regimes. Cognitive warfare through social media and popular opinion have become important weapons in China's United Front Strategy against Taiwan.
Content farms specializing in the production of fake news and disinformation can be said to have been the starting point of China's cognitive warfare against Taiwan. Indeed, they are believed to have influenced the results of Taiwan's 2018 nationwide municipal and local elections. This method of creating fake news first appeared in content farms in China and then spread widely through social media networks in Taiwan. Such content farms of that period included Happytify.cc (歡享網), Coco01 and a Taiwan version of Mission (密訊). Content farms at that time produced large quantities of organized disinformation, including numerous rumors distorting such issues as pension reform and other government policies. These were widely disseminated through countless chat groups and social media followers such that they effectively became "news" that the government found impossible to refute. Taking pension reform as an example, the website of the National Pension Reform Committee under the Office of the President had to set up a special unit specifically to respond to public concerns just to clarify disinformation.
In order to stem the tide of fake news and disinformation, Taiwan's government called on Facebook and other social media companies to actively deal with this. Facebook deleted more than 5.4 billion fake accounts in 2019, and also filed lawsuits against four Chinese companies who sold fake accounts, likes, and followers. Although in November 2019 Facebook launched an updated policy for a community code of "inauthentic behavior", content farms have found ways to adapt. The constantly reborn content farm known as Mission, for example, has changed its business model and added so-called original videos, reviews, pictures and articles to imitate self- or personal-media to get around Facebook and Google's crackdowns on unoriginal content from content farms.
Four models of china's cognitive warfare
Taiwan's democratic system guarantees freedom of speech, but it is difficult to regulate online speech by legal means, which has enabled China to use Taiwan's democracy and freedom of speech as weapons to attack the country's democracy. As Dr. Puma Shen (沈伯洋), who has long researched China's disinformation war against Taiwan points out, the means by which it undertakes this have continually evolved. Most recently, China has been actively cultivating Internet celebrities, buying online live broadcasters and key opinion leaders, whom it manipulates and supports through financial donations in order to influence Taiwan's youth.
Shen analyzed disinformation during the 2020 Taiwan presidential election and subdivided China's cognitive warfare into four distinct models. These he called the External Propaganda Model, the Pink Model, the Farm Model and the Local Co-Operation Models. In the External Propaganda Model, the Chinese government provides financial rewards to Taiwan's media to influence the content of their reports, that is, using so-called alternative facts to present China's point of view. The Pink Model is essentially false news items created by Chinese patriots. The Farm Model allows Taiwan's people to browse these messages by setting up websites and generating click-bait messaging of controversial issues. The Co-operation Model relies on the creation and dissemination of disinformation by local co-operators in Taiwan, that is, by pro-China associations, political parties or politicians.
Of these four, the Local Co-operation Model has the greatest influence. In reality, these local co-operators are not merely individuals and organizations but also include media outlets. According to a survey by Taiwan's Academia Sinica, 60 percent of Taiwanese people believe that China's abuse of Taiwan's media to spread disinformation represents an extremely serious situation. This is not just a subjective determination but, moreover, from objective observation, local co-operators certainly exist among Taiwan's media.
China's United Front Strategy against Taiwan has continually evolved. In the 2000s, China's strategy could be summed up as "Attacking Taiwan is not as good as buying Taiwan," and thus economic incentives were used to buy Taiwanese businesspeople, politicians and media. After the rise of social media in the 2010s, China's strategy became "Buying Taiwan is not as good as deceiving Taiwan," so cognitive warfare, such as disinformation, erupted to meet the needs of the times. Social media, self-media, pro-China media and China's own media interactively promote each other and use dissemination algorithms to accelerate the spread and influence of China's political warfare online.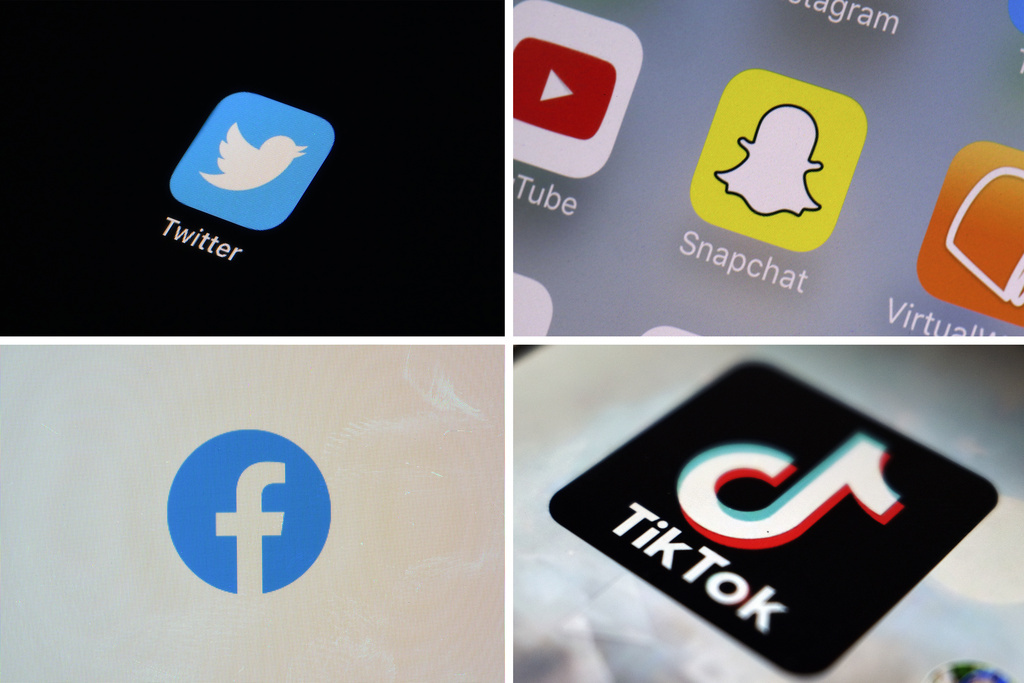 (AP Photo/TPG IMAGES)
In short, China has abused Taiwan's freedom of speech, freedom of the press, and market economy, to carry out cognitive warfare against Taiwan. Thus, by adopting a model of subduing its enemies without actually going to war, it usurps the rules of democratic systems to destroy Taiwan's democracy, and uses the protections of freedom of the press and freedom of speech to destroy Taiwan's freedom of the press and freedom of speech.
Fortunately, the people of Taiwan have uncovered this threat to their democracy. The latest poll conducted by the Taiwan FactCheck Center in May this year showed that 83 percent of people reported receiving disinformation, up from 74 percent in last year's survey. Moreover, 90 percent of people agree that there should be legislation requiring social media such as Facebook and Instagram to establish self-regulatory mechanisms for fake news, and 63 percent even think that the government should legislate to limit the posting of disinformation, thus in effect applying limitations to free speech. In addition to such legislation, Taiwan's government could also take positive actions to defend democracy in an open society, such as improving citizens' media literacy and strengthening the role of public media.